Bobelock Bass Case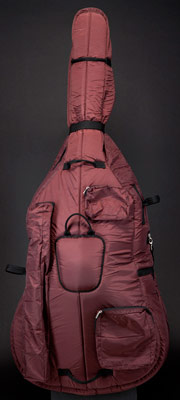 Here's the new, Bobelock Bass cover for $319.60. These are good quality covers: well made with well proportioned and located pockets. We've always offered these covers locally and they've held up really quite well.



Only available in black color now.

For Alaska, Hawaii, or international shipments, please go to our larger bass cover/cases page.
Bobelock Bass Cases:
Affordable: $319.60
thick 1" padding
durable burgundy colored nylon
6 well located handles (the handles are beefy and well sewn.)
music pocket in back
bow case pocket in front
Nice, deep rosin pocket
additional accessory pocket
good quality zippers
double zipper, so cover can be zipped up from either side of bass
both rosin, accessory pocket and bow pockets reinforced with solid stiff backing for easier handling and zipping
bow sleeve
padded bridge area in front
Bobelock's 1 year warranty included


Price is $319.60 total and includes shipping. These thumbnail photos are just for simple overview. If you click any one of these individual photos, will be taken to a separate, large and detailed photo.