Rufus Reid's Evolving (Upright) Bassist Book and DVD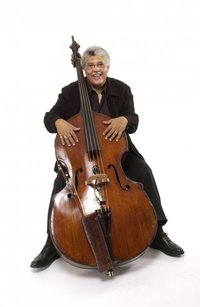 If anyone out there is thinking about recording a new, instructional DVD in music, they should watch Rufus Reid's DVD first to see how it should be done! After playing the upright bass for more than 35 years (that's me!), I can still honestly say, the most delightful pleasure in life is learning something new. After seeing Rufus' DVD you will see what I mean. This DVD also works perfect well in tandem with his book, The Evolving Bassist.

Both the book and the dvd are nicely written and organized so that you can switch around and find things easily. He 'compartmentalizes' several key points of playing. First of all, some of you may not even know who Rufus Reid is. He's played with everyone and there's a good reason why he has been in so much demand: He never forgets what his role is as a bass player. He's unselfish and makes everyone around him sound better. What can be more important than that? I remember somewhere in his book he implores bassists to always seek out better musicians to play with because it will make you a better player. Great advice! The book illustrates exercises, walking bass lines, common sense approaches to holding the bass and left hand technique. I first got my hands on Rufus' book when I was a kid in high school and I think it was the most important book to me for several years. I didn't know anything....and I just played through this book, again and again. I remember even looking at his photos about how to put the upright bass upside down in a plane when you travel so it will fit. That maybe some day... I would be good enough to have to fly with my bass somewhere. Geez, some of the things we wish for!!

Now, his DVD is out. Nowadays, the resources that are available to players, are just incredible. While I have mostly been a professional orchestral bass player, his DVD inspired me because I can see that we both share that same love of learning. You can't fake that!! You can tell Rufus really wants you to learn how to do what he knows best. It's all there. He methodically and systematically talks about the same issues that he mentions in his book, but the book really comes to life in the DVD. The way Rufus presents himself is evidently clear that he is a great teacher. I personally loved the part about his right hand technique: "Turning the Key". One of my favorite things about his playing has always been this big, fat sound that he gets out of his bass. It's not the vehicle here, it's the driver! He shows how to you use natural arm weight and (not to kill yourself) playing. I am up for that and I smiled seeing and hearing....so that's how he does that!!

Would you like to go back to the Jazz Bass Books page?