Adjustable Bass Tailpiece Wire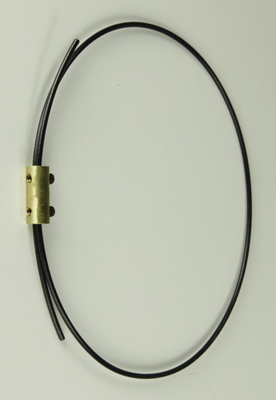 Why do some luthiers/players prefer using an adjustable tailpiece wire? It's all about the "partials" and how the bass vibrates acoustically when the tailpiece wire is 'tuned'. Ok, it's easy to get really bogged down with this sort of stuff and while a tailpiece wire is not going to make as big a difference (tonally) to a bass as a differnet bass bar or sound post will, all these odds and ends, will combine to make up your bass' tonal personality and response. Like a great spagetti sauce ("it's all in there!") Maybe adding in or taking out something in the recipe might be just enough to make that difference you are after.
In most cases still, good luthiers and players alike still lean towards the old fashioned style 3/32 steel cable. On most of our S.E. basses, we still love to use our sturdy reliable braided steel (strong and will not twist) with a locked steel crimp which is hid in the hollow cavity behind the lower part of the bass tailpiece. This is quick, reliable and sturdy. (Just in case you want one of these, you see and order one at our bassa accessories page.)
On occasion, as every bass starts to 'reveal' its personality more in the finale set up stages, we might find a different dead zone or note on the bass that sticks out more or less (for whatever reason!) One way, (in additition to sound post placement trials), is by 'tuning' the tailpiece wire length.: Changing the harmonic partial outlay of the bass can really open up the sound and make it more responsive and/or focused. All these descriptives are per the individual bass player's needs/wants in his bass sound. Sometimes small adjustments only make small or negligle differences, but with the tailpiece lengths, getting the pitch (of the string between tailpiece and bridge) exactly 2 octaves and a perfect forth interval above that same open string will often maximize that bass' potential. For example, on the G string, the higher pitch (between bridge and tailpiece) should hopefully be a high C.
Order your adjustable "New Harmony" adjustable tailpiece wire: $21.00