Home
Bass Café
Giovani Battista Rogeri Basses
(Italian model, $4950)
Wan-Bernadel Deluxe Basses
(French model, $4950)
Basses Under $3,000: Thompson Plywoods, Hybrids, Emile Gillet, starting at $1,485
Bass Bows
Upright Bass Strings
Bass Sheet Music, Methods
& Etude Books
Bass CD / DVDs
Bass Accessories (Rosin, Pickups, Metronomes, Tuners, Amps etc...)
Bass Covers & Bow Cases
Bass Flight Cases
Bass Teacher Directory
Cellos
Violin, Viola & Cello Cases
Gift Certificates
About Us
Contact Us
Black Versus White Bass Bow Hair?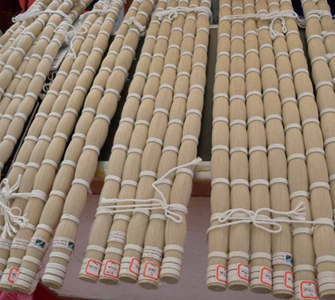 Because of today's vast input of people's ideas on the internet, there's some 'folklore' about black hair being better than white hair for a bass bow. I have always been very fortunate in that when I was young and studying the bass, I lived near Chicago, which had a great multitude good bass specialist shops and some very famous violin shops. Once in a while I would see and notice a bass player that was using a bow with black hair! What's up with that I asked?! The immediate explanation and thought was that because the bass had high tension and was on such a bigger scale, that black hair, with its much courser hair fiber, 'grabbed' the string 'better' than white hair. For years, I then used black hair.


Good White Hair Will Grab just as good or better than any other color.
My bass professor and mentor, Murray Grodner (long time teacher at Indiana University) told me once: "I will take really good white hair, over any black hair! "Great white hair grips just as well or better and lasts longer as well." I still didn't believe him in total, because I had pretty good luck with the solid black hair that I was installing for years. Then one day, I got a new bow. It had decent (unbleached) white hair on it and while I could even visibly see and feel that the hair had a nice courseness to it, as opposed to a thin, bleached violin kind of white haired bow. I bought the bow and of course, played it through for about 6 months pretty heavily, unitl it needed a rehair. Of course, I put black on again! Thinking, I will just show Murray how smart I am! Right? Wrong! I was disgusted with the new (quite expensive) stick that I was now freaking over (thinking I was 'stuck') and I don't mean from the rosin! After a couple of weeks of really trying to get the black hair to work, now realizing that it something more that just to break in, I broke down and got it rehaired again. This time, I called around and asked some really good shops "do you have really nice, high end white hair?" So, I brought over my new bow (Ward Hansen) at the Chicago Fine Arts Building on Michigan Ave and by the end of the day, had it back home on my bass. Perfect again and even better. This bow (WHITE) hair with it's super high quality of fiber, really grabbed the string better than ever. I didn't just get a great grip or 'pop' on the beginning, but the hair just grabbed without letting go throughout the whole bow from beginning to end. It made me play better. I had a warmer and fuller sound. and a nicer (fat and long) short stroke. So from that point on, I never ever wanted black hair and I have never been tempted to try it again.

Fast forward 25 years...and here we're at at your friendly, bass specialist String Emporium. We are specialist with anything to do about the bass! While we keep a bolt of black hair here, we mainly re-hair bass bows with white hair. All of our new bows, whether they are coming from China, Germany or USA, come with good, (the very

best

) white hair that is 'sourced' from the best bow hair dealers in the world(China). BTW, the best quality and most expensive hair comes out of Mongolia, China. That being said, it is therefore super easy for us to get our Chinese made bows (even the cheapest ones) haired with the very best hair. Horse tail hair is getting very expensive. While it was never cheap, it's just getting to be more and more scarce. Think of all the people around the world now buying more scooters and cars...no need for as many horses.

The best white hair will often double or triple the cost of the average* white hair and the cheapest hair by far, 1/8th of the price, is black hair! Again, a comparison: The best white hair grips better than any other hair on the planet. Black hair which by nature is more course, tends to grab better than lower quality white hair. The tradeoffs with black is that the little fibers that stick out, tend to be more brittle and the hair will not last or feel that way for long. The black hair in some cases can often sound a little more edgy compared to a good white haired bow. A bass bow with the best quality white hair will grip more consistantly from frog to tip (hugging string more) and stays nice, longer.

*the average (neighborhood) violin shops around the USA, tend to just keep average (inexpensive) hair for their rehairs. With lower volume in demand for rehairs or a low mumber of professional symphony level players, it is hard for a shop keeper to pay top dollar inflated prices through American hair distributors when the students balk at the higher hair pricing. Also, hair will not hang and last indefinitely. As time goes by, it looses that super stretchy resiliency and can even be invaded by insect mites that eat the hair!