Murray Grodner's "A double Bassist's Guide to Refining Performance Practices"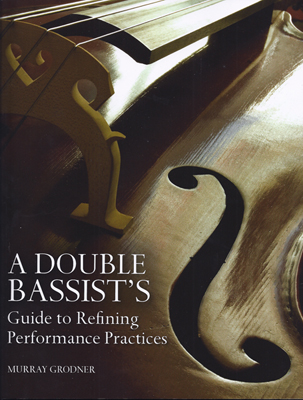 For those who are not familiar with Murray Grodner's background, he is Professor Emeritus, Jacobs School of Music at Indiana University. He has an impressive orchestral history, being a member of the NBC Symphony under Arturo Toscanini, Principal Bass with the Houston Symphony and at age 20 became Assistant Principal Bassist of the Pittsburgh Symphony He is widely regarded as being one of the most successful bass teachers of our time. Many of his bass students play in major symphonies throughout the USA and other parts of the world. He's the best and it's great that he took the time to share his expertise, providing practical exercises and insights on 'string playing'. I am one of the fortunate bassists privileged to call him 'my teacher' and mentor. (I attended Indiana University from 1980-85.)
This special book contains (156 pages) isn't full of a bunch of boring exercises (with no visible purpose). Yes, there are practical exercises with explanations of why and what they are meant to accomplish. Mr. Grodner has always been a hands-on player/teacher and prescribed books or exercises based on the end result or need of the player. In other words, he wouldn't mess around or waste time with meaningless exercises that had no end goal.
Here's a brief list of some of the major points that he covers in the book:
Part 1 (pages 1-22) Critical Analysis of Physical Performance Techinques: topics include "Practice Habits, Left Arm and Hand, Shifting process, the Bow Arm, Sound Production, How To Problem Solve, Perfecting and Resolving Techniques etc...

Part 2 (pages 25-100) Perfecting Techniques Through Employing Scales, Exercises and Orchestral Excerpts: Essential bowings to use for 2 and 3 octave scales; arpeggio fingerings, string crossing exercises, trills, shifting exercises and related orchestral excerpts.

Part 3 (pages 101-118) Informative essays for Double Bassists: I found this section of the book really interesting and includes practical thoughts on how basses work "Basses, You Are Late", thoughts on Chamber music, French vs German bow, Thoughts on teaching etc...even thoughts on purchasing a good bass and bow.

Part 4: Analytical Phrasing and Bowing for Solo Works, includes in depth suggestions for studying the Prelude (Bach's 2nd Cello Suite), and both the Dragonetti and Koussevitzky Concertos.

Part 5 is Preventative Exercises for Physical Abuses (Related to Playing Double Bass.) A much needed section which addresses physical overuse issues and how to avoid them.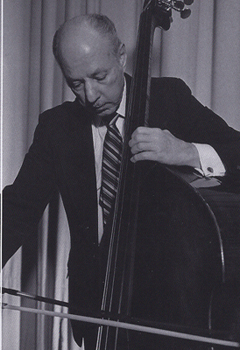 This is a great book to have for anyone serious about playing or teaching the bass! I have always thought if you can get just one great idea, but an idea so grand that you can build foundations, then the book was successful. Murray Grodner's "Guide to Refining Performance Practices" has so many great ideas and is built on years of wisdom.
Order here, or customers can see other important bass method books here as well.