New Harmony Bass Endpins and Accessories
<![if !supportLists]>New Harmony makes some incredible accessories for the upright bass. Mostly endpins here, but they also make the nice (solid) brass wolf suppressors that we offer on our bass accessories page, as well as a nice string winder (for your hand power drill!)
<![if !supportLists]>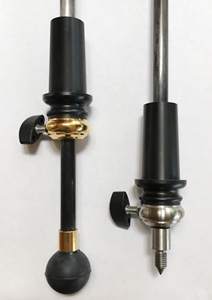 About New Harmony Endpins. These are impressive and they offer just about every possible way (we) bass players might ask for in an endpin. First, the ones at the top of the page here are the more traditional type, regular bass endpins that come straight out the bottom of the endpin hole (middle) and not angled. Most people buy this style. You have the option of a stainless steel collar or an actual one in 24 carot gold! Also, within this same exact style, is an option on how wide your 'plug' is. T The most common size is the same as the German Ulsa, 33mm, but you can also get a wider one, at 35mm.
<![if !supportLists]>Should you get a solid or a hollow ('woven') endpin shaft? With the New Harmony 'traditional'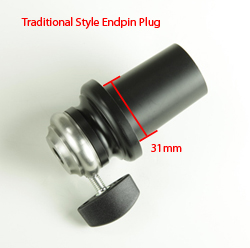 style endpins, they mainly offer two styles of endpin shafts: Solid graphite or hollow ('woven') tube shafts. It's really hard to know for sure which one will sound best on your bass. One easy experiment is to first play your bass with your old (steel) endpin. Then, remove the whole shaft completely (now the bass is sitting just on the stumpy plug), then see if or what difference you feel, or hear. Sometimes you might really hear a difference and improvement. If there is a noticeable improvement, then you might like to have that hollow (next to nothing) endpin. We highly recommend that whatever shaft you decide on, that you get one that has the removable endpin ball on it as well. It's a little extra money, but most will always need it. Not all will use it while playing, but so ofter you need to be able to transport the bass without worrying about the sharp metal tip getting dulled or broken during transport.
<![if !supportLists]>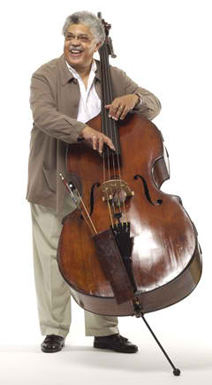 What are these "Laborie" style endpins all about? These endpins were first used by cellists! Some really great players (Janos Starker, Mstislav Rostropovich), played with an angled endpin so that the instrument could sit differently, lightening the balance, and even changing the angle of the semi-vertical instrument. Same principles of physics apply with a bass. The most notable bass player that brought these into greater use, is Francois Rabbath. Another French luthier and bass maker, Christian Laborie started to install these angled endpins directly into the bottom of the bass (just by plugging the whole thing into an angled slot hole drilled into the endpin block).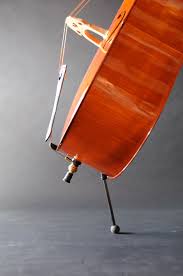 <![if !supportLists]>It's important to note for those ordering one of these Laborie style endpins: These endpins will NOT hold your tailpiece wire around them, like the traditional endpins will. You will STILL need some kind of endpin plug or endpin (traditional) type for the purpose of anchoring your tailpiece wire. Also, for the Laborie style endpins, they are put in at an angle, with a drilled hole (into the endpin) block that is usually half way between the old, traditional hole and the back of the bass bottom rib. These endpins are usually then pulled out and kept in your bass cover when transporting the bass. Again, even if you use the Laborie style endpin all the time, you will still need the traditional type to anchor your tailpeice to the bass.
<![if !supportLists]>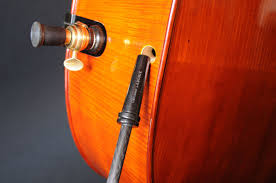 Some Laborie endpins are adjustable and some are the non-adjustable type (shown here to the left), where you just get a pre-cut length. The adjustable ones are a nice option for players to be able to change the shaft length. Players will like to try out different lengths and can use the same endpin for either standing or playing this way.
Photo of an Adjustable Laborie Style Endpin: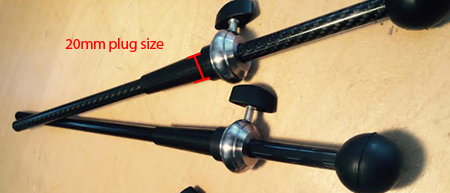 Traditional Style New Harmony Endpins
Price
NH-1
Traditional Stainless Steel endpin. Complete, with

shaft and

removable ball end. Choose diameter (3

1

mm is standard). This one has a solid shaft of 1/2" or slightly wider, 5/8" (1/2" is most ordered)
$123.00
NH-2
Traditional Stainless Steel endpin. Complete, with

shaft and

removable ball end. Choose diameter (31 mm is standard). This one has a hollow shaft. Also, comes in 1/2 or 5/8" diameter.
$133.00
NH-3
Traditional style, Gold Endpin, only in 31mm. Solid Shaft. Choose 1/2 or 5/8" shaft diameter.
$145.00
NH-4
Traditional Gold Endpin, only in 31mm. Hollow Shaft. Choose 1/2 or 5/8" shaft diameter.
$155.00
NH-5
Laborie Style endpin, Adjustable. Solid Shaft, with removable ball end/sharp tip combo.
$121.00
NH-6
Laborie Style endpin, Adjustable.

Hollow

Shaft, with removable ball end/sharp tip combo.
$131.00
NH-7
Laborie Style endpin. Fixed shaft, non-adjustable, with solid graphite shaft, non-removable ball end.
$77.00
NH-8
Laborie Style endpin. Fixed shaft, non-adjustable, with 16" long

hollow

shaft. Non-removable ball end.
87.00
NH-9
Extra (or Replacement) endpin shaft for 'Traditional" style endpin. Solid graphite shaft, with removable ball end/sharp tip combo.
$82.00
NH-10
Extra (or Replacement) endpin shaft for 'Traditional" style endpin.

Hollow

graphite shaft, with removable ball end/sharp tip combo.
$92.00
NH-11
Removable threaded ball replacement. This endpin ball will also fit all Ulsa, German tips as well, 10mm threaded tip end.
$19.45
NH-12
What to do if you use a wheel already, but just getting one of these new endpins??? We have adaptor tips that will do into your NH plug, but also made to replace your 'old' the bass wheel shaft that you used before. We have 2 adaptors: One for the Gaines wheel and one that will fit your 10mm String Emporium or Onyx wheel.
$31.50