Professional

<![if !supportLists]> 'Sanderson™'

Bass Case, $235

This is a nice, new cover that we commisioned and now make in China. It's made at a very high level and (in our opinion) reminds us a bit of the German made Soundwear bass covers, just without out the higher price tag. The cases are built to wear well and hold up with everyday hard use.

Unique padding. This cover utilizes a special kind of padding. When one pinches the cover padding together, you can just feel how hard and absorbant it is. There is nothing like it: The padding is a heavy (dense) 1" thickness and was developed for high impact protection applications, (inside football helmets, knee pads, camping sleep pads etc..) and in this case, nicely made bass covers.

Handles, pockets and zippers. As usual, we specially added in all the best YKK zippers. They are worth the added extra costs because as most all know, usually it is the zippers that first start breaking on bass covers! YKK still make the most dependable zippers.

There are 6 pockets and six handles on this cover! As one can easily see from the front and back photos, the cover is loaded with well located handles: Three in the front, (top near scroll, middle and at the bottom), as well as a nice handle on each side, with one in the back (middle). The handles in the front are nicely padded which makes is nice on the hands. The front padded handles are "X" sewn (reinforced) and the handles on the sides and back are also "X" reinforced, with an added rivet!

About the pockets. Crazy pockets!

We often get questions from bass players asking if one of our covers have bow case pockets big enough for a 'double bow' case. In this cover, there are TWO separate bow case pockets, one on each side of the front. In between, there is a long oval shaped accessory pocket. Also padded, it measures 20" long and about 8" at the widest part. On the very top of the surface of this pocket is yet another mesh pocket. Plenty big, you can put anything (even your endpin shaft, if you use a bass wheel). There are a couple of pockets in the back. One at the bottom portion serves as a music pocket. The 2nd large pocket in the mid back area is to store and keep the backpack straps.

Backpack straps! Ok, for the record, Steve (the owner) doesn't 'do' backpack straps too much. (One too many players that 'caught' their bass neck walking out a door!) Yet, so many folks have asked for these kinds of covers...you got it! We will never offer cases with wheels though. Again, the case is beautifully designed so that if you decide not to use (or like Steve) do not want packpack straps, you can simply stick them into the back designated b/p strap pockets and zip up! Also, comes with the traditional single padded shoulder strap (with D rings anchored to the side with rivets).

Colors and sizes:

So far, we only offer these in a 3/4 size and in black/silver color combinations. Please see the size chart for this cover.

Price is $235. These thumbnail photos are just for simple overview. Click any one of these individual photos to be taken to a separate, larger and more detailed photo.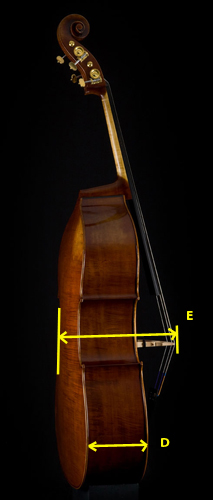 Measurements for 3/4 size: the upper bouts (A) is 20", B is 25-26", C is very top of scroll to bottom of bass, 72-73", D = 8-9 1/2", E = 16-17 1/2" and F is 43-45"
Order here:
For Shipping within USA (not including Alaska or Hawaii) Shipping is $35

$235 + 45 shipping is $280 total

Alaska and Hawaii Customers: Shipping is $85

$235 + 85 shipping is $320 total

All international orders, outside of USA.

To find out what your shipping cost will be to your country, simply enter your information in as you are ordering and it will show the total before you are required to enter your credit card info.
Sanderson<![if !supportLists]>™ Bass Case checklist:
A great quality cover for only $235
unique, super dense padding
<![if !supportLists]>very durable long wearing, upgraded nylon, water repellant (best fabric used on any bass cover!)
6 double ( X) reinforced carry handles, 3 of which also have rivet anchoring
music pocket
2 bow pockets, each house single size bow case
long, oval shaped front accessory pocket, with added mesh compartment in front
all zippers on these covers use the special industrial, YKK brand
double zipper, so cover can be zipped up from either side of bass
rugged strapping, with rivoted D rings anchored on sides
2 year warranty! This means against any defects of workmanship. Handles or fabric tearing, zippers breaking etc...