Home
Bass Café
Giovani Battista Rogeri Basses
(Italian model, $4950)
Wan-Bernadel Deluxe Basses
(French model, $4950)
Basses Under $3,000: Thompson Plywoods, Hybrids, Emile Gillet, starting at $1,485
Bass Bows
Upright Bass Strings
Bass Sheet Music, Methods
& Etude Books
Bass CD / DVDs
Bass Accessories (Rosin, Pickups, Metronomes, Tuners, Amps etc...)
Bass Covers & Bow Cases
Bass Flight Cases
Bass Teacher Directory
Cellos
Violin, Viola & Cello Cases
Gift Certificates
About Us
Contact Us
Don't Buy Bass Covers with Wheels Built in Them!
There is good reason that we have never (nor will we ever) offer a bass cover here with wheels installed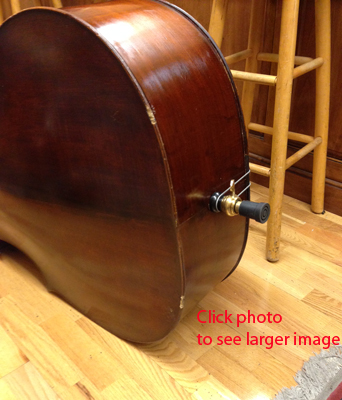 at the bottom of the cover. It seems fairly innocuous at first...just a good idea and an easier way to handle and transport a bass. Right? This was surely designed by someone that doesn't completely understand the value of an upright bass, respect it as they should or just simply doesn't understand what these covers will do to a bass over time. Quite simply, they break the bass!

No matter how 'safe' the manufacturer or dealer that sells these bass case/cover claims and no matter how much padding they are supposed to have, don't buy one! The wheels which are attached permanently at each side of the bottom edge of the bass, allows the player to simple push their bass down the sidewalk or pavement. While it seemed like a great time saver and convenience, the wheels give

direct

impact to the beloved instrument on each crack or bump they roll over or into. A hole or rut in the pavement? BAM! You got it, right into the bass. With these bass cover (trolleys built in) there is really no way they can dependably protect from hitting the bass. Our famous Tuff-Bag bass covers, will never have wheels.

Here's a bass that we just got in. A nice bass! Over time though, the player used this cover not quite realizing what directly hitting the bottom edge will do to it over time ('a couple 2 or 3 years of easy use' he said.) The bottom of this bass has two very broken edges which will now require us to graft two new edges (each about 1 1/2" wide on each side.) This takes a lot of time, expertise and patience to make the repair look seamless. We will try to repair this so that it will look like it never happened, by matching the wood grain, matching the varnish (easier said then done!) and in some places even having to inlay the missing purfling. In addition to the broken edges shown here, the bass has huge scar indentations where the wheel pressed (through the cover) and then put deep indentations into the maple wood, just above each area where the edges were broken. Additionally, due to the same cover design, the bass sustained too many impact shots which dislodged the endpin block and seam, even jarrying the rib seam at the very bottom of the bass to erode all the glue allowing the ribs to begin peeling away from the bass. And this is a good, well made ('keeper') bass. All can be fixed, but for a price...and needlessly so!

It's simple. Don't buy a cover that will do this sort of thing to your bass, no matter what they say or how padded they say that 'their' special cover is. Obviously, the safeest, cleanest way to get your bass from point A to point B is to get a good cover and carry it. While this is the perfect way for your bass, it is not the most practical to have to carry a heavy bass with accessories attached! We endorse using a low impact bass wheel that simply goes into the same hole (and size) as the endpin shaft. Take the endpin out (most covers have an endpin pocket in the back of the cover), and then put the wheel in. Our String Emporium Bass Wheel does not require air, but the hard wearing foam wheel absorbs the most shock of any wheel and will not need to be replaced or go flat. We like wheels that are separate from the cover and far away from the body of the bass. When using even a good bass wheel, use common sense: Don't push and bump your bass going down the stairs! (No da!!! But you would be amazed by what people will do.) When strolling with your bass, outside perhaps, always look ahead to be aware of any potential hard bumps: If you see a questionable ridge or bumple coming up, then simply lift the bass over that to the next level. While not as perfect as carrying a bass, the separate removable wheel is seated right into the most solid of all areas: The endpin block. Basses that have sustained endpin block damage, is usually caused by some very hard, violent impact onto the endpin. Not from wheeling it.

While it looked like such a great idea at first, the covers with bottom wheels mounted or built into the bottom of the bass cover are bad idea and will almost surely damage a bass over time. Even the small little sidewalk bumps (clicks) when you are walking will eventually wear down the edges and break them off.