<![if !supportLists]>Tuff-Bag™ Premium Deluxe Upright Bass Covers
The best bass covers in the world, now available in 3/4 and 7/8<![if !supportLists]> sizes
Are you looking for a premium deluxe upright double bass cover? This the new Tuff-Bag™. It has every imaginable pocket and handle. The covers are built to last a very long time and withstand many years of use (and abuse.) They are simply the best cover on the planet: most protective, best wearing, most affordable. $319 (compare to covers, in excess of $540!)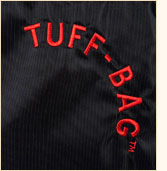 Tuff-Bags™ come in one size: 3/4 medium, and fit about 85% of the basses out there, including most 7/8 sized basses. There are no wheels attached to this cover. (Wheels can add a lot of un-needed extra wear and tear on the bottom ribs of your upright bass.)

This cover, while very affordably priced, compares favorably to the most expensive, elite covers and we believe is the best regardless of price!



More about what makes a good bass case.
As bass players, we know that you have to be able to rely on on a bass cover that will protect your upright bass, offering dense padding, pockets where you most need them (with plenty of room) and key placement of handles so that when you're loading the bass in and out of a car, the handles and pockets are strategically placed in a balanced way that won't create any additional logistical problems for transport. Additionally, there are no pockets that will bulge on the side or bottom. For anyone out there that's had to load a wobbly bass inside the car and then hit the brakes....you know what we mean!

The fabric on the Tuff-Bag™ is water resistant (it's black, reinforced nylon fabric that is normally used for very expensive back packs.) As far as we know, this is the only bass cover, that repels water. This material, while light weight, is super durable and will not wear out. The pockets have super thick (rigid) flaps on the tops (bow compartment, and front two pockets) so that when zipping the pockets, one will not have to hold the other side of the pocket to close it. If you are 'out there doing it', you know how nice it is after a long gig to be able to load and zip up your upright bass cover, without it flopping and moving around on you!

Glow in the dark? Another new, improvement: Ever walk out of a gig wearing all black clothing, carrying your bass? Cars and drivers can't see us!! We put these smart looking 'running shoe' material throughout the cover in the front and back. In the photos, we had difficulty just taking normal shots of the front here because now matter what we did, the flash on the camera would activate those strips. In normal, every day use, the white areas are actually darker and blend in nicely. (Again, this is the flash making them appear lighter.) At night under the street light ambience, these strips keep you (and your bass) safer. Below, we will try to show the normal daytime bass cover, then with all the lights off, offer the 'night-time' shot. Ever see those 'dancing shoes' late at night when someone is out jogging? Not suggesting running with a bass!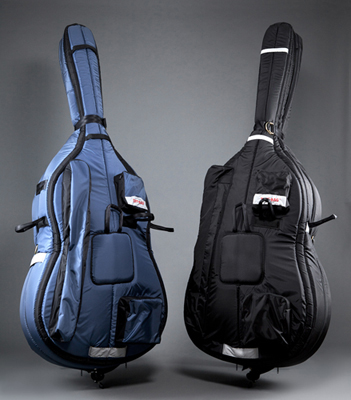 The handles are super "X" stitched re-enforced so that you can depend on the handles lasting for a long time of hard use and abuse. Other important qualities that make this the best selling, best quality case in America, is the padding and zippers. Zippers? Zippers are the number one, cheap short cut we see with most other bags.

These zippers are heavy duty YKK brand zippers. This is the Mercedes Benz of zipper companies. While they are more expensive, cheap zippers are the first thing to "go" on a bass cover. The padding is super thick (1"+) but while it is at least one inch thick, the density of the padding is what makes the cover the best buy. While several bass covers offer 1" padding, the real test is the quality of the density and how long it stays this way. Tuff-Bags™ come with nice, dense padding so that the cover will not ever loose its protection or thickness. Cheap padding looks great the first few months, but quickly gets thinner as the padding looses its resiliency and thins out. The Tuff-Bags will not do that. Last but not least, there is no reason why the hardest working bass players should not expect the same performance and wear of their bass cover. No pockets should tear, no zippers should break or malfunction, and of course no handles or seams should ever break or tear away. Tuff-Bags™....are TUFF and so is the warranty! The Tuff-Bag is made for keeps. A great bag!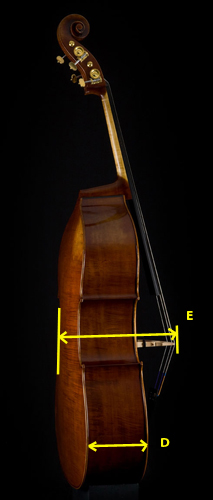 Measurements for 3/4 size: the upper bouts (A) is 20", B is 25-26", C is very top of scroll to bottom of bass, 72-73", D = 8-9 1/2", E = 16-17 1/2" and F is 43-45"
Measurements for 7/8 size: the upper bouts (A) is 21-22", B is 27-28", C is very top of scroll to bottom of bass, 75", D = 8-9 1/2", E = 16-17 1/2" and F is 45-46 1/2"
Order Tuff-Bag here:
Sorry, but as of September 27, we are all out of our Tuff-Bag 3/4 size black and/or blue! We expect to be back in stock by the first or 2nd week of November. (We do have a few 7/8 black covers still.) Because our material costs have gone up on these covers, we will have to raise our prices when they are again available. In the meantime, while we wait for our re-stock, you can order your cover here and then wait for us to send it at this lower, old price. You can even order your cover by phone if you like. This way, we would take all your information (and then charge your card at time of shipping) when we have them in stock. Again, this will surely be around the 1st or 2nd week of November. 480-785-5491 or 800-600-2689
For Shipping within USA (not including Alaska or Hawaii) Shipping is $35 (These are out of stock until

early

November.) You can purchase the cover now at the old price if you do not mind waiting.) We have Black 7/8ths still in stock.

$319 + 35 shipping is $354 total

Alaska and Hawaii Customers: Shipping is $85

$319 + 85 shipping is $404 total

All international orders, outside of USA.

To find out what your shipping cost will be to your country, simply enter your information in as you are ordering and it will show the total before you are required to enter your credit card info. Some blue 7/8th size covers are still in stock.
<![if !supportLists]>Upright Bass Case checklist:
Affordable, premium cover, $319
thick, upgraded dense 1" foam padding that will last and keep the same, dense thickness over many years of use
<![if !supportLists]>very durable long wearing, upgraded nylon, water repellant (best fabric used on any bass cover!)
5 double ( X) reinforced carry handles
plus, 6 more strategically placed strap handles which accommodates every possible need and angle
music pocket (plus small accessory pocket above music pocket on back, not shown)
endpin pocket
bow case pocket big enough for a double bow case
Nice, deep rosin pocket
additional accessory pocket
additional smaller pocket above music pocket on back (not shown)
all zippers on these covers use the special industrial, YKK brand
double zipper, so cover can be zipped up from either side of bass
both rosin, accessory pocket and bow pockets reinforced with solid stiff backing for easier handling and zipping
bow sleeve
GM auto safety belt strapping material for neck and padded shoulder strap (extra heavy duty buckles and D rings)
super padded, extra bridge pad for extra protection to the most bumped area on the bass!
3 year warranty! This means against any defects of workmanship. Handles or fabric tearing, zippers breaking etc...
Also, if you buy this bass cover, we will guarantee that your intonation is perfect the first six months of use (This just proves that we have a sense of humor here!)
Price is $319. These thumbnail photos are just for simple overview. Click any one of these individual photos to be taken to a separate, larger, more detailed photo.