Home
Bass Café
Giovani Battista Rogeri Basses
(Italian model, $4950)
Wan-Bernadel Deluxe Basses
(French model, $4950)
Basses Under $3,000: Thompson Plywoods, Hybrids, Emile Gillet, starting at $1,485
Bass Bows
Upright Bass Strings
Bass Sheet Music, Methods
& Etude Books
Bass CD / DVDs
Bass Accessories (Rosin, Pickups, Metronomes, Tuners, Amps etc...)
Bass Covers & Bow Cases
Bass Flight Cases
Bass Teacher Directory
Cellos
Violin, Viola & Cello Cases
Gift Certificates
About Us
Contact Us
Upright Bass Bows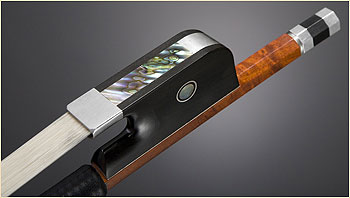 Welcome to our new, upright bass bows page! While we've offered bows locally here for years, we've never offered them on our web site until now. We offer bass bows in just about every price range for every type of player and need. There are 4 groups of bows. Simply click on the highlighted text to be taken to the page which features that particular group:
Specially made Chinese 'Brazilwood' upright bass bows for $150 These bows are for every level of upright bass player. Great dense, well made upright bass bows, with real style, playability and price. There is no upright bass bow on the market that comes close to it for the price and quality.
Carbon fiber upright bass bows by Finale™ for $340 and the Metropolitan bows for $753. Check out the new carbon fiber upright bass bow phenomenon! These bows which are made out of carbon fiber, actually copy the same vibration and density properties of the very expensive pernambuco bows, but at a super affordable price. (Both of these bows come with a special bow case and rosin package included).
The String Emporium shop made, Pernambuco bows for $950. Pernambuco is still the ultimate wood and material for upright bass bows. These bows are specially made at oour exact specs, weights and models. If you are looking for a $2,000 bow, you just have to try one of these.( prices on these include bow case and rosin)
Highest quality, awarding winning, bows by the makers Reid Hudson and Marco Pasquino (see Deluxe Upright Bass bows), in both French and German style upright bass bows (call for price.) These are the highest quality upright bass bows in the world.
All of our upright bass bows are guaranteed to meet the highest standards of quality, materials and workmanship.
It's easy to try upright bass bows from us. We ship in a good, sturdy mailing tube that can be used several times. You can try more than one bass bow at the same time and pick the one that you like. We are also offering a special package on our carbon fiber and pernambuco bows: Included in the price, each bow comes with a Bobelock hard upright bow case and choice of upright bass rosin: Pop's, Carlsson, Nymans or Kolstein's Ultra bass rosin (soft only). The bow cases come in either the black cordura cover or the slimmer, shiny fiberglass exterior. No matter where you compare, this adds at least a $70 value. Bows all add their own personality! Before you order your bow, give us a call and tell us what you like, what types of playing you do and what kind of bass you play and what type of strings you normally use. This all matters and should be part of the bow equation. Let us help!

A note about shipping: With the exception of the Reid Hudson bows, we ship all of our bows by USPS Priority mail. The Hudson and Pasquino bows are only sent overnight, using FedEx. All bows are fully insured.