About Us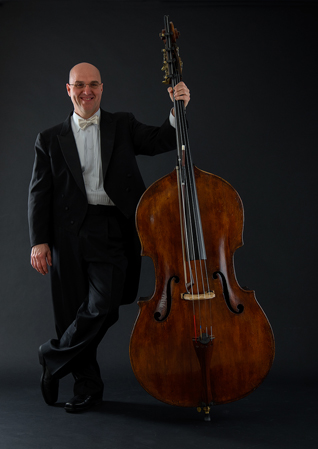 Even though I like to take a more humorous approach to my company and selling double basses, I take this issue very seriously. Musicians develop a lifetime relationship to their instrument. Professional players rely on their instrument as a tool to perform and provide for their livelihood. Serious amateurs, whom simply love music and playing, also desire and deserve to own a great instrument.

Because I am a professional bass player myself, I know how even the smallest differences can make such a huge impact on the way we play, sound and perform. Especially because of the great size of this instrument, it is so very important to find a bass that has that 'special' sound, but also has the right proportions that after many hours of use, will not adversely effect physical well being.

The owner. Besides owing and operating the String Emporium, I currently serve as Assistant Principal Double bass with the Phoenix Symphony Orchestra.

I have been in this position for the past 25 years and before coming to Phoenix, I was also Principal double bass with the Hong Kong Philharmonic Orchestra for 4 years. In addition to my orchestral experience, I have free-lanced as a Jazz musician for the past 30 years! I consider myself lucky in that I am in love with any music that calls for an upright bass! Because of my experience (and that I consider myself a bass player first) I only sell the upright basses that I would enjoy to play myself. Here, I am pictured with my beloved Vincenzo Corain bass which was made in Trieste, Italy, 1848.

At the String Emporium…
We offer the utmost in professionalism, quality of service and dedication.
We pride ourselves by treating each and every customer with the utmost respect and sincerest commitment.
All of our instruments are at the highest quality, while our central theme still, is keeping the prices the most affordable and the most competitive
When comparing 'apples to apples' no one beats our service or prices!
Please feel free to call or email us at anytime. We are eager to find the right instrument or accessory you need.

Sincerely,
Steve Koscica