Bass Café, upright double basses for sale.
A place that offers a very special blend of upright, double basses for sale. Grown and aged, some as long as 200 years!

Because of our ever changing menu, we will try to update this page as often as possible. Here you will find up to date pictures, measurements and brief descriptions of what is known about each upright bass that is for sale which includes upright double basses from Czech, German, French, English, Italian, Romanian and Chinese origin. For more in depth details in any particular upright bass, it is best to call or email. Please keep in mind that we ship anywhere in the USA. Looking for a great carved upright bass, but under $5,000? The Wan-Bernadels are famous and now compete with basses much higher in price. From serious amateurs to the most dedicated professional bassist....they are working with a Wan.

We've gone through a lot of upright double basses this year. A lot of them not even making it on our web site. Because of the busy turnaround, it sometimes resembles a 'bass-revolving door': Basses coming and basses going! We'll try to keep things more current here, but you can always email us from time to time and ask for any updates or give us your information about a particular bass, sound or price you need. Do you need to stay under the $3k range, and looking at Hybrids? Check out our new link of upright basses under $3,000.
Trying out a bass from this page is easy. Because we ship so many basses, we are able to cheaply and safely send a bass for you to try and play for a week. No can ever be expected to buy a bass without trying it first! Play it at home, in your own familiar environment. This is really the way to go!
All photos on this page enlarge when clicked.
Herbert Ernest Martin, English bass made in Sidney, 1909
This is an English bass modeled after Fendt, by an English maker, that was made in Sidney! It has a hand written attribution by the maker, H.E. Martin, Sidney, 1909. (Also stamp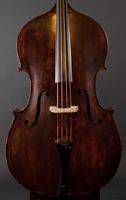 ed H E Martin just below the neck button on the back.) Of all the basses that have come and gone here, this is one of the most special. Interestingly enough, what we have so far put together on Martin is that he worked within the Fendt shop in the late 1800's and then moved (with another well known maker, John Devereux) to Australia in 1864. The bass is in great condition and is a solid well made bass. While Fendt basses typically are made with flat backs, this model has a nice, carved back. It still not only has Fendt's violin outline, but also has his unique f-holes. This bass will do anything you ask it to and more! Want to play louder?...then just play louder! It's not just loud, it's 'full' sounding and this is what makes this one so incredibly fun to play. It's all there ready to go. It has a huge dynamic and response range that allows the player to play anything. We were astonished that a bigger orchestra bass would play so easy on the quick, soft passages, like Marriage of Figaro, where the notes just come off effortlessly. It is a 'fuller' 3/4 sized bass and easily fits into a normal 3/4 medium cover. The string length just a tad over 42". Because of they way the bass plays (like butter!) it doesn't feel that the player is 'working' hardly at all. (Note: It's not uncommon for bigger basses that are as responsive as this one to actually feel and play much easier than the small basses. With smaller basses, they can tend to play and feel tight and can often require much more work to play on. Here's some measurements: The upper bouts measure 20.5, the inner (or 'C' bouts) 14.5, the lower bouts, 26" and the back measures 44.5. So again, still within a normal 3/4 size range. While measuring the back one can just see the incredible carved back depth on this bass. It is truly a marvel. One will easily see basses this pedigree and condition go for substantially more money in east or west coast shops. We often see these kinds of basses, start at $75-80k. (We're bass players here, not photographers! These photos do not do the bass justice so we will be updating this section in the coming weeks.) Price upon request

There are more double basses here.
Gyorgy Baranyai, 2001 (Hungary)
This is a cool bass! Made by Gyorgy Baranyai in Budapest, 2001. It is beautifully hand made bass with a lush varnish. One will almost immediately notice its unique and different shape. It is modeled and made after a typical Viennese style bass. One of the biggest and most well known makers in the 18th century, Vienna, was Johannes Georgius Thir. Like the Thir basses, Baranyai modeled his scrolls beautifully the same unique way and style that makes it very elegant. (We have an original Thir scroll below for comparisons.) This bass has a flat back that comes in towards the neck to make it easy to play on. This bass has a lot of power and a unique, (professional) quality sound. The bass makes a terrific Classical or Jazz bass. Now presently has the Spirocore strings for jazz and is in excellent condition. The bass is of a very professional quality. If you are a serious classical musician looking for a good 'audition' bass. This one will work incredibly well. It is very responsive to the touch and easy to play on. Easy for solos and excerpts, but with a warm, quality sound. Jazz players, won't loose out on this one either. It has that special deep power that is very special and an incredible sustain. I guess a good bass is just a good bass, no matter what genre it is used and played in! You will see basses by this same maker around the country for around $13,000, but we are able to offer it at $9,500. This bass also with the nicer, Sloane tuners.
Big Mittenwald bass!
This is a nice, big, German, Mittenwald bass. It just came in and will be undergoing some small, cosmetics, but is a good, healthy (and big!) bass. It has a carved back with outside linings on the ribs. Has a deep, round sound to it. Here's some measurements: the upper bouts measure 20.75" across with sloped shoulders, the C bouts (inner) measure 15", the lower bouts, 27" and the length of the back, measure 45.5". The string length is 42 3/8". It has a new (fat) ebony fingerboard and bridge. While the bass is big, it plays 'loose' and actually quite easy to play. Notice the 'false nut'? Click the close up of the scroll.) The neck and string length on this bass was actually longer than it needed to be. In order to make is a normal and easy bass to play, lowering the nut actually brought in the string length and made it a perfect 'D' neck. (A "D" neck simply means that when playing with your index finger, the D is right at the break of the neck...where it should be.) $8,500
Rumano Solano, Vincenzo Panormo model, 2005 (Maryland, USA)
Here is a nice bass by maker Rumano Solano who lives and makes basses in Maryland. This is a big, heavy bass. The upper bouts measure 21 1/2" across, the lower bouts 27 1/2" and the length of the back is 43 1/2". So it is not a really big bass in length, but very broad. The string length is a mere, 41 1/8". Interestingly there is a gradual deepening of the ribs from the neck area that joins the bass body where the ribs are only 7 1/2" and grows gradually wider and wider through to the bottom of the bass (endpin) that comes out to 10 1/4". For comparison, our own G.B. Rogeri basses only go out to around 8 3/4", and they are considered a normally 'full' 3/4 size bass. We measure the top of the top to the back of the back. While the Rogeri dimensions are very typical, this just shows how deep this Solano bass gets towards the bottom. The bass is being offered here on consignment and it is in excellent condition. While this Solano bass has the ordinary body length and string length of a regular, 3/4 bass, the wideness and depth almost between 7/8 and 4/4 bass.
It has Sloane tuners and a very deeply carved back. One of the deepest backs one will see on a bass! This bass can be shipped to try! Has a nice, deep sound. Owner wants to sell it, $10,000 obo.
Emanuel Wilfer, 'Solo' model, upright bass, Germany, 2011
We are proud to introduce 2 new very unique and special models by the maker, Emanuel Wilfer of Möhrendorf (Bavaria) Germany. There are 3 generations of bass making in the Wilfer family and these are hand made, by Rolande Wilfer. This one is his new, Solo model in which we specially requested a lion's head scroll. This bass, while it is called 'solo' model, is in no way limited to only solo type, (recital)playing. I think he calls it his solo model because of the slightly more narrow shoulders and is physically so much easier to play in the upper registers. It has a nice, deep orchestra sound and can be played in any type of genre, whether jazz or classical. It's just a good, well made, big sounding bass. It is a normal 3/4 size with the uppper bouts (shoulders) measuring 19 1/2" across, the lower bouts, 26 1/4" across, the length of the back, 44" and the string length, 41 1/2". A lions head scroll is attractive on a bass scroll and also adds a lot of mistique and attention. On this bass it adds the artistic balance of this bass. Additionally, Rolande expanded with the thematic aritstry and added hand ornamentation to the front edge and back which 'completes' the overall look of this bass. This bass is what we call a 'lifer/' in that this is another great sounding bass which like other historic, (old) basses, will get passed down through future generations of bass players. How does it play? Again, it plays 'easy'. It doesn't take much to get the string to vibrate and physically, with the narrow (solo) type model, very easy for anyone to play over in thumb positioning. A nice bass, very full sounding and deep. $13,500 (Shop and compare, you will usually see this level of Wilfer basses starting at $16k.) Wilfer #2 bass, (below) is a good sound bass (made with his old wood). It is $12,500.
Emanuel Wilfer, 'Prague' model, bass, Germany 2011
This bass is Wilfer's 'Prague' model which was specially made for us at the String Emporium. What's the story on this bass? This bass was Rolande Wilfer's grandfather's original model of some old, Bohemian bass that he liked. The deeper ribs, gives this bass a deeper, cushy kind of sound when playing. It is set up as a Jazz bass currently, and while it is super easy to play and very responsive, it's got this huge punch to it and very rewarding to play on. Here are the measurements: the shoulders are 19 1/4" across, the lower bouts are 26 1/4", length of the back, 44" and the string length on this bass: 41 1/4" $12,500
Jerome Thibouville Lamy, bass, c.1890.
This bass, has had a lovely history of being played in some of the world's great orchestras and fittingly, this is another 'great', bass offered at the Bass Cafe. It was recently restored and is in beautiful condition. Although this bass was used pretty extensively in professional orchestra settings, it is one of those great basses that belongs wherever the player chooses to take it. It has a great punchy, clear spiccato and a well developed range. No weaknesses on this bass. It has the classic reddish-brown (French) varnish with a beautiful flat back with the famous, "false" neck button (the French makers sometimes did this to show off the "regular" violin/cello outline, but still giving the bass an easier sloped should near the neck stand to make it easier to play on. Inside, the label reads: Jerôme Thibouville Lamy, 1890. $24,000 obo Be sure to click on any photo shown here for a larger, more detailed image.
Juzek upright bass?
Another old upright bass, possibly by Jan Juzek. There is some hand writing on the directly on the inside back making note of the new top that was replaced in 1934. It's a nice bass. Flat back and gamba shaped with a nice low C-extension in it. Has a nice dark chestnut varnish on it and very articulate sounding bass. The bass is in great shape and also has the traditional outside linings (could be a German bass too.) The upper bouts are 20 1/2", the lower bouts 25 1/2", the back is 43" and the string length, 41". $7,000

Another old upright bass, possibly by Jan Juzek. There is some hand writing on the directly on the inside back making note of the new top that was replaced in 1934. It's a nice bass. Flat back and gamba shaped with a nice low C-extension in it. Has a nice dark chestnut varnish on it and very articulate sounding bass. The bass is in great shape and also has the traditional outside linings (could be a German bass too.) The upper bouts are 20 1/2", the lower bouts 25 1/2", the back is 43" and the string length, 41". $7,500
Old (Restoration) Bass, c.1900
Be sure to click on any photo shown here for a larger, more detailed image.
It's rare that we ever put a bass up here on the Bass Cafe that's not 100% ready for sale yet, but it is almost there and with something so beautiful, we couldn't help it! Only a couple of small things needed to be done: the neck was too far into the body, making it harder to play, so we are pulled the 'neck stand' out just a tad so that it will play perfectly. Now we'll only need to do a little touch up, new bridge and tailpiece...done! That back is beautiful!!! We'll soon update this section with the providence of the bass and the measurements. Interestingly enough, one can see how much a bass varnish can darken after 100 years. Note the lighter spots where the bridge feet normally stand is much lighter. (Some of that too is just wear from the bridge feet as well.) This bass should be finally ready around the end of January or early February. This one will be $8,500 when it is finally ready.
John Osborne, upright bass, England, C.1920
Here is a great upright bass by John Osborne. This bass bass is made in the true English tradition, with slightly more broader shoulders (still a little sloped near the neck for easier playing.) Inside the bass, the label reads: John Osborne, Farley Street, Leamington Spa, October 18, 1920.The measurements: 21 3/4" across the upper bouts, 26" lower bouts, 44 1/4" back, and only 41 5/8" for the string length. It is a very playable bass. This bass was at one point owned by the great, Monty Budwig (jazz bassist) who passed away sometime ago and for the past 10-15 years was owned and played in a major American symphony orchestra. Sound-wise it's clear and carries well in any setting and is a very versatile bass. (People often ask us: "What makes a great jazz bass or what makes a great classical bass?" Well, our answer is simple, "Great basses are just great basses and one should be able to play a 'great' bass in any genre." This is such a bass. Be sure to click on any photo shown here for a larger, more detailed image. SOLD
Leon Mortin double bass, Mirecourt, c.1905
A double bass, by Leon Mortin, Mirecourt, France (1905). One of the most awesome upright basses on the planet for sure! There is a maker's label inside this bass which reads: Ancienne Maison Vuillaume Darte et Cunin Leon Mortin. Luthier, Mirecourt 1905), but we have seen another similar upright, which was made by Leon Fischesser-Shollet whom lived to Paris in 1905 (the same year that the bass was made.) The most striking and obvious highlight of this bass is the magnificent lion's head scroll carving. It is a good sized scroll and very detailed.; (Even the back of the scroll has an incredible array of the back of a lion's mane.) Everything about this bass breathes elegance from the scroll, to the perfect curves of the form outline and violin corners, to the perfect exquisite (Strad) style f-holes. More so than anything though is the way the bass plays. It is a clear, focused bass and very responsive. Was played in major orchestra for many years. Beautifully carved back (with lots of flame!) This is a bass which you can hear 10 feet away as well as all way up in the balcony seats. SOLD

Be sure to click on any photo shown here for a larger, more detailed image.
Upright bass by Georges Mougenot
(Inside, the label reads: : Georges Mougenot, luthier du Conservatoire Lieg 1875) Mougenot was born in Mirecourt, France in 1843 and his basses generally date around the 1870's throughout early 1900. Lovely majestic violin form with the typical French violin out line as well as a neck button just under the neck heal (this is a French tradition!) This bass has a storied past in that is the ex-Chuck Israels bass (whom played with pianist Bill Evans.) The sound has a very wide spectrum and is very easy to express on it: Very focused with super sustain. While it has a big, fat sounding E string, one is pleasantly surprised when the upper register thumb position notes sing so effortlessly as well. This bass is a good sized 7/8 flat back, with the upper bouts are 21", the lower bouts 26 3/4", 44 3/4" the length of the back and with the string length, 43". SOLD
An upright bass by Johann Ullrich Eberle, circa 1775
This is a very rare bass by the maker, Johann Ullrich Eberle, circa 1750. Just by looking at the photos, one can instantly see that it's different. The sound holes, are actually referred to as viola d' Amore sound holes. This bass was found with the original bass bar, (baroque style), original neck setting in body etc...all still intact. It has recently undergone a total restoration, with the exception that the neck, bass bar, and bridge be set up to accommodate "classical" playing. This is the same exact conversion that all old basses (and Strad violin and cellos) have had done in order to play music literature composed (post 1800). To our knowledge there are two other documented basses exactly like this one: One in the Metropolitan Museum in Purchase, NY (which was once featured in an ISB magazine. The issue and date will be shown here at a later date.) Also, another mirror example of this bass is in the famous Orpheon Collection. There are just too many intricate details of this bass to get into (could write a whole book.) The scroll is very delicately carved in every way and side. The back is beautifully carved out in the lower heal of the scroll. The upper bouts are 20 3/8" with the lower bouts measuring 25". The back is traditionally flat, and measures 41 3/8" whereas the top is 41 7/8". Tonally, very sweet, and sounds much like a great Italian solo bass would sound: Warm, very responsive. A rare and incredible bass! SOLD

There are more double basses here.
Upright bass by Jacquet-Gand c.1860
Another great French bass by Jacquet-Gand made sometime around 1860. The maker of this upright was more than likely Gabriel Jacquet (known as Jaquet-Gand for marrying into the Gand family). See the Wan-Bernadel upright basses for more on Gand-Bernadel. Looking over this bass closely one quickly gets a sense of history and the feeling of it's uniqueness. The bass has just recently undergone a total restoration, which included a beautiful neck graft and total set up. This bass is a nice size where it is big enough to fill the sound of a big hall, but small enough to get around and play on. A full 3/4 size bass. The upper bouts measure 20 1/8", the lower bouts 25 3/4", and the length of the back, 44" The string length is 42".The back is the traditional French (Gand) flat back and there is a stately raised edge all around the back and the front as well. (See photos). The top has a nice arching of spruce whereas the rest of the bass, traditional figured maple. This bass plays as one would expect on a master bass: Full focused sound with a ton of cushion all around it. While it was owned and played by a prominent jazz bassist, it is now set up to play in an orchestral setting. It's an all around, great bass! SOLD
Benjamin Patochka upright bass
This bass is probably made by the maker, Benjamin Patochka, in 1931. It bears the label, Benjamin Patochka, houslar, Jicine, Cechy, 1931. There are records that Ben's son, Josef also used his father's label in his basses as well. This is a very cool bass for several reasons: It is pretty much in the original state with the exception to the typical restorations that a good bass should have from time to time. Even the tuners appear to be original, although it has been updated with a nice ebony fingerboard, bridge and setup. Patochka is considered one of the best Czech masters. He made an incredible number of instruments (even with the son's help). In Jalovec's Violin Makers of Bohemia book, he states that "Patochka numbered all his instruments", (this bass is numbered #5949 which is hand written on the original label.) Benjamin died in 1931, the same year that this bass was to have been made. Josef (the son), was a WWI hero who fought for Czech independence then eventually died in 1943 as a martyr in a Nazi concentration camp. (I hate to dramatize, but it's so rare that we get any in depth background on any maker and I think it helps us realize the person behind the instruments and always adds to it's historical perspective.) How it sounds! The bass has a nice solid fundamental and dark sound. (It's very unique and special.) It has normal measurements: string length is 42", back is 43", the shoulders 20" and lower bouts 25" SOLD. Email us.
German flat back bass
A good, old bass (probably German) 1920's. Flat back, with newer ebony tuners (hat peg style). The shoulders are 20 1/2" apart, 26" for the lower bouts, 43" and a very manageable string length of 41 3/8". It has an interesting neck made from oak. A well maintained bass. Plays very well with lots of sustain. SOLD
Mittenwald bass
This is a very nice Mittenwald upright. (Germany, circa 1900) Flat backed construction, gamba shaped with the lovely reddish-brown varnish. It has a nice big, rounded sounded. It's a fun bass to have because it sounds great with any brand of string, or in any kind of setting. Very versatile in that way. It is in excellent, newly restored condition. The back measures 43", the upper bouts (shoulders) 21", lower bouts 25 1/2" and the string length is 42 3/8". SOLD
Carved back German double bass
This is a another good, sturdy, older carved back, German upright for sale. Probably around 70 years old. A restored 3/4 size, it has had some cracks along the ribs, but well repaired and pretty solidly made. Has the original orange-brown varnish. It was recently added to our collection with a nice, new setup. Length of the back on this one: 43", upper bouts 19 1/2", lower bouts 25" and the string length 41 3/8". Has a nice, warmer tone with a big low end. SOLD

German Upright Bass, C.1890

It has no label, though it's more than likely a German, upright bass. Circa 1890's. It has a good flat back construction which tapers off into the neck black. The bass is covered with a lovely, warm brown amber varnish. The sides and particularly the back have some nice flaming in the wood grain as well. All though it's a normal 3/4 bass, it has slightly wider upper bouts (shoulders) at 20", the lower bouts 26", back length 43" and a nice string length of 41 3/8". This upright has just recently been restored and is in fantastic shape. A very special bass! $7,500 (See more double basses for sale at the More upright Double Basses link.
L. Herclik, Koln
This was double bass made in Cologne, Germany around early to mid 1900's. It's in great condition and has a nice darker sound. It has the typical outside linings (along the outer ribs) and interesting shaped tuners (eye shaped). It has a flat back style construction which slopes inward towards the butt of the neck. It also has a new flamed neck graft. (retaining the original scroll.) The string length is only 41 3/16", the back 42 1/4", the upper bouts 21" and lower bouts 25 1/2". The slightly wider shoulders help give it a bigger, warm projecting sound. SOLD
Ladislav Prokop
This upright bass is by Ladislav Prokop, 1934. It has a beautiful dark, reddish-brown varnish and also has the outside linings as found on the Stowasser bass. It has a carved, round back and is also in excellent condition. It has a sweet dark tone, but also very full and projecting. The shoulders measure 19", lower bouts 25" and the length of the back 42". The string length is 42". SOLD

For more information you can call or email us at basses@stringemporium.com