Janson Cello Cases
The new
Janson™
Hard Cello Case with wheels, is made of a nice, lightweight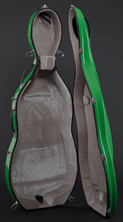 fiberglass. They weigh around 14 lbs (much like the Bobelock or Ztech cases offered.) These cases are made really well, with a plush lined velour interior. Wheels are on the lower back with a nice ergonomic,
easy
pull handle in the front. Also comes with a pair of backpack like shoulder straps These cello cases are well made and the parts are high quality: The handles are durable and the wheels made for long hard use.
"Just a great case for the money!"

You won't see a lot of reviews on these yet as they are new, but you might see the same exact case under different brand names by other firms, but for way more money! They come in our special Tuxedo Black, Burgundy, Navy Blue, Royal Blue, Emerald Green, French Red, Silver Grey, Ivory White, Silver Grey and now newly added, Purple Lavender. Which is our most popular color? Tuxedo Black! White looks good too and will deflect heat if you live in or near Phoenix! Our case colors range from rich burgundy, navy and the traditional black and white to our new, very bold colors of French red, royal blue and emerald green.
Free Shipping within continental USA, $315
The Jansen cases are now sold out and will not be offered any longer. The best case for the money still, is the Bobelock Cello case.
9 Colors To Choose From:
Tuxedo Black w/ burgundy interior
Burgundy w/ burgundy interior
Navy Blue w/ navy interior
Royal Blue w/ grey interior
Emerald Green w/ grey interior
French Red w/ black interior
Silver Grey w/ black interior
Ivory White w/ burgundy interior
Please click on any photo here for a larger, more detailed image: