Rockabilly Bass, Joe Fick
We are proud to introduce one of the world's best Rockabilly bass players, Mr. Joe Fick. Otherwise known as "Slick Joe Fick".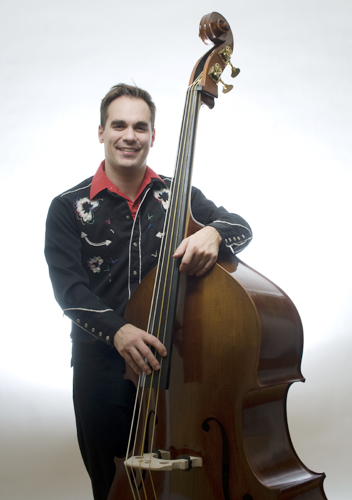 Joe also plays on a Thompson RM-100 bass. In his Rockabilly bass video, he plays the RM-100 model in the blonde finish, which are still the same price as any Standard model, for $1,435. In this video, he plays on Lenzner gut strings.

While Joe is quite arguably one of the best Rockabilly bass players in the world. He comes from a musical background, but not the typical path that one would imagine. Joe's brother, David, teaches Music Theory at the Thorton Music School at USC and his sister, Kim, plays violin in the Fort Worth Symphony. Joe humorously proclaims himself as the 'family screw-up' (because he didn't pursue a classical career). We whole heartedly disagree with him on that one and his musical roots are well developed. Initially from Tacoma, WA, Joe started with Suzuki Violin at a very early age. Joe learned what a pulse (and groove) is at a very early age! There's still hope that both his sister and brother come to their senses and at least learn some Rockabilly... All joking aside, Joe is one serious player. Joe has been living in Memphis for the last eleven years and as of late resides in Nashville is the member of the Dempseys band and often free lances with other groups throughout the region.

Here's how Joe describes his musical background and how he got into Rockabilly Bass:

"Following in the musical footsteps of my two older siblings, I took an interest in classical music at a very young age and began private violin lessons at age five. It was around this time that I met who I often refer to as "my best friend in the whole wide world" Bradley Dean Birkedahl. Though stylistically our musical tastes differed (Brad being a huge Elvis Presley fan), we both desired to play music and eventually began playing together. Throughout elementary school I "fiddled about" with the violin, piano, cello, and the acoustic guitar and listened to a wide array of musical styles including big band jazz, classical, pop, and punk rock from older sister's record collection.

By Jr. high school Brad and I were taking guitar lessons together from local guitarist/bassist Steve Woolsey and had formed a band with former drummer Mike Moffitt called The Dempseys (named after our eighth grade English teacher Howard Dempsey who resembles Ted Koppel from ABC's Niteline). Brad and I were guitarists and we were in search of someone to play the thankless role of "bassist." My knowledge of bass players at this time was somebody like John Paul Jones who stood in the back and was overshadowed by his musical counterparts. I decided to be the sacrificial lamb and switch to bass in order to get the ball rolling and the band gigging, not to mention Brad was a much better player than I was so it seemed like the right decision. My logic told me if I could fake my way through six strings then four strings was going to be more practical and manageable and I would have a fighting chance.

My first electric bass was an Ibanez Roadstar 2 that I bought used. It had a P Bass shape, two pickups, and was red with a white pickguard and I played it with a giant triangular bass pick. By the time I was fifteen our band was playing wherever we could find people to listen including the school cafeteria, coffee shops, and street markets. Most of these gigs were stripped down and acoustic in order not to drive people off and many were outdoor without the use of amplification. This setback gave me the idea for the upright bass. If we were playing mostly acoustic then all I would need is the bass; no amp, no power, no problem (well, maybe transportation), plus it looked really cool. My mom called music stores around town inquiring about upright basses and found a dealer just north of Tacoma in Des Moines called Hammond Ashley. It was there that we rented an old plywood Kay Bass which we ended up buying later. It was sunburst and sounded really full for an acoustic instrument. Over the next few months I played that bass constantly getting my fair share of blood blisters and torn skin but realizing that there was no going back to the electric bass; if I was going to excel at this instrument then I would have to overlook the pain that my hands went through and the awkwardness and size of the instrument. Soundwise, however, the "new addition" to the band fit like a glove."

I now use and play my new Thompson RM-100 bass and I am ecstatic to own such a great bass. It has the power and sustain that one would only come to expect in a great plywood bass and the workmanship on my Thompson is flawless. I love this bass!

About Joe's set up: On the video, Joe plays on a very simple setup with the Standard, RM-100 (blonde) model and uses the straight gut strings by Lenzner. (Lenzner are the old pros at making the worlds best gut strings. (It is most likely, though they don't advertise it, make all the other very expensive gut strings for other leading brands headquartered in Germany and throughout Europe.) There were just a couple of marginal differences in his set up: The strings are set just a tad higher to facilitate the slap bass technique. Strings that are too low, are not easy to reach under. The G was set at about 7mm and the E string about 9mm.

'Slick' Joe Fick is anything but slick. A true musician in the fullest meaning of the word and we're proud that that he uses a Thompson bass!

Got a question about any of our rockabilly bass set ups? Give us a call (800-600-2689) or email Steve.
| | | |
| --- | --- | --- |
| | | |