The new Finale upright bass bows are quickly becoming the players' choice for carbon fiber bows. Here's just a few of the players that are playing one:

Great bow! It reminds me a lot of my Bryant bow-similar weight, balance, and articulation. The Finale bow gets a very nice spiccato and pulls a lot of sound. I still prefer the quality of the sound which the ($4,000) Bryant produces, but not by much, and the general playability is very similar. It draws the string evenly from frog to tip. Its a terrific value, no question. I would definitely recommend these to anyone looking for a quality affordable bow-it really is a great deal.
Greg Dugan
Indianapolis Symphony and professor of double bass at Depauw University




I like the Finale bow, copy of a Pretscnher: It feels "right" in the hand, and I plan on taking it on our next tour of Europe in August, 2008. It should be the answer for teachers who want a good bow for their students that will play well, yet not cost as much as a very fine old bow, and also will be prey to the usual nicks and scratches (and even breakage) that often plague the first-time young bassists.
Orin O'Brien
New York Philharmonic Orchestra, teacher at Julliard and Manhattan School of Music




I've been using the Finale bow exclusively since our last email, recording "Symphony Fantastique," and "Dapnis and Chloe" on iTunes, with Gustavo Dudamel. The tone is quite strong and rich. It's extraordinary quality for the price. I've shown it to my students at USC and they are all favorably impressed.
Dennis Trembly
Co-Principal bass with the Los Angeles Philharmonic, bass teacher at USC




This bow handles like a top-notch wood bow...and at a fraction of the cost! Fantastic! I will be recommending this bow to my students and colleagues.
Jason Heath
contrabassconversations.com & doublebassblog.org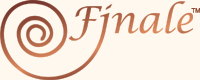 In my opinion you can't beat the Finale bow for the money, it sounds and plays great! It's well balanced and it outperforms wood bows twice the price. I have been playing on it more as the hair has gotten broken in and it is quite enjoyable to use.
Dave Watts
Jazz player, Montreal