Gamut Red Diamond Gut Bass Strings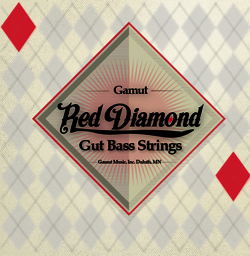 These are the new Red Diamond gut bass strings made by Gamut. They are hand made strings in Minnesota and are very well made strings. The G and D strings are gut, but wrapped in a dark-brown nylon tape. The E and A strings, similar to the Lenzner brand that we also offer, have copper wrapping, again with a gut core.
How do these compare to other gut bass strings?
The first thing we noticed just from taking them out of the package is how substanial they look and feel. By that we mean, just well made. No loose or sloppy windings, but very precise (and tight). Our first impression upon playing them (jazz) pizz is that they have a nice firm feel. Maybe not as loose as some gut strings can be. This is a plus! A common complaint with some gut strings is that they feel too loose or not enough tightness. While we certainly do not ever want the high tension feel of a typical metal string, perhaps with the nylon wrapping, makes them feel and behave better. Another nice upgrade we noticed quickly was that each set comes completely sealed in plastic packaging. Hopefully, this too will help keep the strings super fresh unitl they are opened and installed on the bass. (You can buy a couple of extras for spares and keep them in your bass cover knowing that when you need them, they're fresh new still.) Anyone that plays gut strings knows all too well that sometimes without warning, but during a gig of course, a string will break!
Why nylon wrapping and not just plain gut? While Gamut is planning to make pure guts (without any wrapping) in the future, we like these strings the way they are. First, it's another alternative to a pure gut (with no wrapping on the G and D), but more practically, having the wrapping is that it will keep the strings 'nice' far longer. That is, tas traditional pure gut strings start to age, it is common to see micro tears in the fiber of the string. (Players that use guts regularly know all about this!) First, you will see super small little frays perhaps, but as you play over time the little fragments that start to peel away and get bigger and more exaggerated. Sure, we can clip these and keeping the strings oiled (Pirastro string oil!) will keep the string from drying out. With the tape windings on these Red Diamonds, they will feel nice for a very long time and hopefully last way longer. These are good strings for rockabilly slappers, or jazz purists that want to sound like Paul Chambers.....who wouldn't want to sound like Paul Chambers?!
| | | |
| --- | --- | --- |
| | Red Diamond Gut Strings (by Gamut) | Price |
| RD-100 | Red Diamond set (EADG) | |
| RD-101 | Red Diamond, G string with nylon tape winding | |
| RD-102 | Red Diamond G & D packaged discount when purchased together | |
| RD-103 | Red Diamond D string with nylon tape winding | |
| RD-104 | Red Diamond A string with flat copper winding | |
| RD-105 | Red Diamond E string with flat copper winding | |
| | | |