Kay Upright Bass Story
This proud String Emporium owner, Steve, would very much like to tell the (bass) world, his 'Crazy Kay Bass Story'. Now that my kids are older, way out of college in their 20's now, there was a time, long, long ago, that Dad (me) was a regular Mr. Mom in the summers. Summers, when my symphony orchestra (Phoenix) was in recess and the kids stayed home (no school!). I always got up EARLY in the mornings to practice for sure, but money was tight and it was always soooo hot in Phoenix. What do you do with kids in the summers where the avg temperature was 110F? Ok, now to the Kay Bass Story.I got a call from a very lovely lady living in a retirement community called Leisure Word (they jokingly referred to it as "seisure world"!) In this community, you have to be a minimum age to buy a house there. (OMG! I can actually live there now). In any case, she was very nice and called me to tell me that she had an 'old bass for sale' that was played on and used exclusively by her late professional bass player husband who passed away several years prior. She was now moving to Alaska (!) and wanted adventure. (Her words!) She told me that she was referred to me by some other players and thatshe heard that I 'buy basses' and/or at least played the bass and might be interested in it. So, of course, anyone can imagine the kinds of thoughts running around in my head: Professional bass player, she mentioned that he only owned this bass and that he recordered pretty much exclusively for Warner Brothers Studios (Hollywood) and when he retired , they move to AZ. I am thinking.... maybe some great, (priceless) Italian or some super old bass of stature that she so now desperately (also her words) wanted to sell.I had a 3 (girl) and a 5 year old (boy) at home that day (every day!) and the idea of me driving over to her place that afternoon with these two super hyper kids, I was fearing the worst: Knocking old antiques down and breaking or letting her cat out the door. It's all happened before mind you! So, I literally bribed my kids! (My mom's idea...) I promised them McDonald's Happy Meal, Dairy Queen and then a movie (you know, those animated summer blockbusters that always come out in the summers. ) I remind the kids...'if you get off her couch, the deal is off, we all go home and take naps!" It worked!! She even commented on how 'well behaved my kids were!' They were too...and still are.
Kay Basses Were Made By Guitar Makers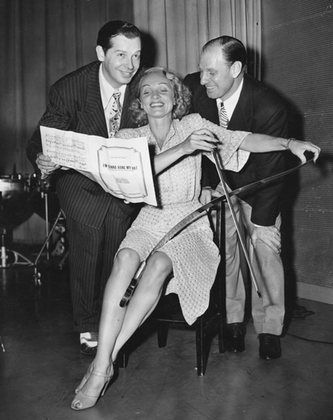 So she shows me this old canvas style bass cover and I take it out of the corner and it's an old Kay Bass (I mean old! This one linked is not that bass and this one too, was sold) It was in pristine condition, ebony fingerboard, hand varnished and had a serial number inside the body, #999. Then, while I was examining the bass, she told me her late husband's life story: Regretfully, I cannot remember the names. Shame on me, but I have always been that way with names. This man though was alive throughout this house. There was no doubt that she loved him, that he was not only a good husband and father, but the cat could play too! There was still this massive EGO wall in the font hallway inside the house. Photos of him playing THAT Kay bass in movie recording studios, and photos of lots of famous musicians and even a cool photo of him showing Marlene Dietrich how to bow a saw! Wow, what a life this guy's had. Hmm. So then, I ask her, how much do you want for this bass? "She says $200, priced to sell quickly." Say I (sounding a bit surprised by the price) REALLY? $200 dollars???? and then says, 'ok honey, you can have it for $180', but you must take it out now. I did. Much to my shock and amazement, I was initially surprised by the low price, but she must have mistaken that sound for a "that high?" price. I counted out the twenties and then took my well mannered kids and bass home. Before I left though she insisted that I not only take the bass stand and the old pickup in a box (Shadow) and whatever stuff was there, were something like 30 (at least) reel-to-reel tapes of him paying "his" music. I looked on the box covers and saw, "Christmas, 1961" just as my dad recorded us kids opening presents on Christmas Day. I felt horrible! What was I going to do with her family Christmas tapes? I didn't even have a tape player for these old reels! She gave me this super intensive look and I took EVERYTHING out of that house!
Underwood Bass Pickups Still Very Popular
This story is not over....So indeed, I took the kids to McDonalds, got the Happy Meals, then off to the movies where we ate our meals. When I returned home (my 3 year old daughter insisted that I now must call her Pocahontas) and started to look at this (new) bass that I just got. I reached into the front rosin pocket and pulled out a brand new, Underwood pickup. It was still in the original packing and never installed. Then, instantly the phone rang. It was one of my symphony bass colleagues: "Say Steve, I have a student here and he needs an Underwood bass pickup. Do you have one?" I got chills!!! That student came right over and within minutes gave me back my $180 dollars. The only remnant or thing needed to be removed from this old Kay bass (perfect condition) was a big round oval sticker in the back that read: "Liesure World". God bless all the bass players in the world that play music and support their families. I feel bad now that I cannot remember the player's name, but his spirit was all around me that day. Thanks for the bass, the pickup and the memories. Maybe someone reading this will please tell us what this man's name was again so we can properly credit him here.
| | | |
| --- | --- | --- |
| | | |